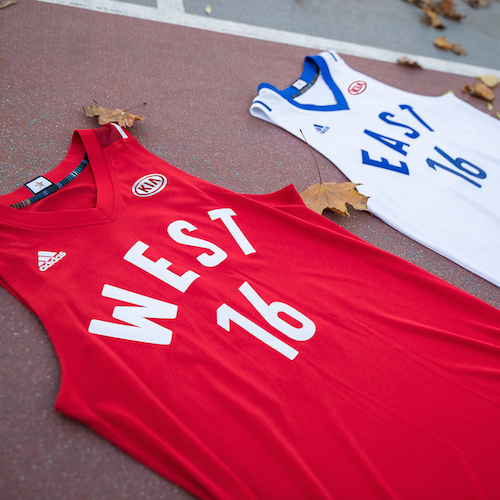 Narednog vikenda se održava tradicionalni NBA All Star, a ekipa našeg bloga se pridružuje kolektivnom ludilu i bira po 12 najboljih igrača po konferenciji. Izbor se previše i ne razlikuje od onog zvaničnog. Jimmy i Blake neće igrati zbog povreda, dok je biranje Kobea očigledno na račun starih zasluga, što na kraju krajeva – i nije toliko sporno, all star meč je zabava, glamur i prodaja dresova sa šljokicama.
Izbor je napravljan po standardnom šablonu, u startnim petorkama imamo po 2 guarda i 3 forwarda,  a na klupi su još 3 guarda i 4 forwarda.
West
Starters
Stephen Curry (G) – Mnogi su dominirali ovom lijepom igrom, ali Steph to radi na jedinstven način, gotovo transcendentalan. Ovakvom igrom ne da je zaslužio najviše glasova nego bi i Kim Dzong Un bio primoran da pravi koaliciju s njim.
Russell Westbrook (G) – Čini se da je ove sezone napokon ovladao svojim tanatosom što je rezultiralo vrhunskim i prije svega racionalnim partijama.
Kawhi Leonard (F) – Sezona potvrde da Spursi imaju kamen temeljac nove dinastije. Nevjerovatna smirenost i radna etika ni da mu je Timmy tata (ko zna, po godinama bi i mogao biti).
Kevin Durant (F) – Povreda je ad akta, te se KD lagano vraća statusu najraznovrsnije ofanzivne mašinerije današnjice.
Draymond Green (F) – "Žena za sve igrač", čiji holistički doprinos na terenu daje Kerru švajcarski nož ubitačne moći za seciranje protivnika iz večeri u veče.
Reserves
Chris Paul (G) – Konstantna produkcija koju donosi iz sezone u sezonu je zapanjujuća. Milina je gledati ovako sitnog čovjeka da dominira u igri gorostasa. Zeke Thomas ove ere.
James Harden (G) – Nakon izvanredne igre iz prethodne sezone mnogima se ova čini kao loša, ali jedno je sigurno – to je da će on do bezvijesti euro stepovati, dok ne dodje makar do slobodnih bacanja.
Klay Thompson (G) – Elitna treća opcija na koju bi Joe Lacob trebao da plati porez na luksuz.
Blake Griffin (F) – Ušao je u sezonu u MVP formi, ali mu neki kontravjetrovi u glavi i tvrda vilica ekonoma Clippersa pokvariše kandidaturu.
Anthony Davis (F) – Dosađuju mu povrede svako malo ali pred Obrvom je mnogo all star vikenda u godinama koje dolaze.
Demarcus Cousins (F) – Zbog njega Karl, svaku noć, naručuje pjesmu "Glavo luda". Bez dileme – najbolja petica lige, još samo kad bi on to shvatio i počeo da radi ono za šta ga je mamica priroda stvorila.
Derick Favors (F) – Da li Jazz dobija novog Mailmana, pošto Derick isporučuje iz večeri u veče pune pakete ofanzive i defanzive.
East
Starters
Kyle Lowry (G) – Već duži niz sezona grabi do panteona playmaker-a i konačno je tu. Da li može da povuče Kanadu do finala konferencije?
Jimmy Butler (G) – Šteta što ga je povreda omela da dodatno ubijedi upravu da je Rose yesterday's news. Novi gazda u gradu vjetrova.
Lebron James (F) – Multitasking na terenu je prenio i van njega te ga mnogobrojne funkcije ometaju da ostvari svoje najbolje učinke ali i dalje je to kraljevski.
Paul Milsap (F) – Draymond Green Istoka i ključna karika Hawksa.
Pau Gasol (F) – Istok je zaista tanak na centrima kada se starina Pau gordi sa startne pozicije ali moramo odati priznanje za nevjerovatan žar za pobjedom u njegovim godinama. Stari kao špansko vino.
Reserves
John Wall (G) – Još jedna fenomenalna sezona u kojoj praktično sam vuče zamađijane Wizzardse. Moli se dolasku Durantule.
DeMar DeRozan (G) – Kralj dugih dvojki puca ih bolje nego ikad a i radi krvav posao u odbrani, Njegova najbolja sezona u karijeri.
Kemba Walker (G) – One man team koji je dokazao da nije obični kombo kojeg možeš naći ispred svake koledž sale.
Paul George (F) – Izuzetno mi je drago što se vratio u onu MVP formu od prije dvije sezone
Carmelo Anthony (F) – Trougao mu je legao savršeno. Ne nabija brojke kao nekad ali je korisniji za ekipu nego ikad.
Chris Bosh (F) – On i Flash i dalje vuku Heat. Nadam se da mogu pomrsiti račune svom drugaru Bronu.
Nikola Vučević (F) – Nabacio je fenomenalan ofanzivni arsenal a i defanzivu znatno unaprijedio. Mada je to i dalje daleko od nivoa Milka Bjelice.
---
Osim glavnog meča, za vikend se može pratiti još par interesantnih događaja,
Rising Stars Challenge
Ovo je meč mladih zvijezda, na kom učestvuju igrači koji su rukiji ili imaju godinu iskustva. U početku je taj meč  bio između rukija i sofomora, zatim smo imali razne team Shaqove, team Charlsove i slično, da bi sada igrali tim USA protiv ostatka svijeta, što ide u prilog činjenici da white men can jump, more and more.
U.S. Team
Jordan Clarkson | Lakers | G
Rodney Hood | Jazz | G
Zach LaVine | Timberwolves | G
Devin Booker | Suns | G
Jahlil Okafor | 76ers | C
Jabari Parker | Bucks | F
Elfrid Payton | Magic | G
D'Angelo Russell | Lakers | G
Marcus Smart | Celtics | G
Karl-Anthony Towns | Timberwolves | C
World Team
Player | Team | Pos.
Bojan Bogdanovic | Nets | G/F
Clint Capela | Rockets | F/C
Mario Hezonja | Magic | G/F
Nikola Jokic | Nuggets | C
Trey Lyles | Jazz | F
Emmanuel Mudiay | Nuggets | G
Raul Neto | Jazz | G
Kristaps Porzingis | Knicks | F/C
Dwight Powell | Mavericks | F/C
Andrew Wiggins | Timberwolves | G/F
Skills Challenge
Takmičenje u barataralanju loptom – kombinacija driblinga, savladavanja prepreka, šuteva za 3 i dugih dvica je kategorija koja je rezervisana za bekove, jel da? Ove godine imamo neuobičajeno mnogo visokih igrača, što ide u prilog da big men can dribble and shoot. Osim ako se ne zovete Robert Sacre.
Emmanuel Mudiay, Denver Nuggets
DeMarcus Cousins, Sacramento Kings
Draymond Green, Golden State Warriors
Anthony Davis, New Orleans Pelicans
CJ McCollum, Portland Trail Blazers
Karl-Anthony Towns, Minnesota Timberwolves
Isaiah Thomas, Boston Celtics
Jordan Clarkson, Los Angeles Lakers
Three-Point Contest
Priča se da će Steph sa centralne pozicije da ode nekoliko metara unazad (do logoa) i da šutira odatle.
Stephen Curry, Golden State Warriors
James Harden, Houston Rockets
Klay Thompson, Golden State Warriors
Khris Middleton, Milwaukee Bucks
Kyle Lowry, Toronto Raptors
JJ Redick, Los Angeles Clippers
Chris Bosh, Miami Heat
Devin Booker, Phoenix Suns
http://www.youtube.com/watch?v=6cBjkGtQ9Yc
Slam Dunk
Najatraktivniji događaj subotom na All staru. Podsjetimo se kako je to izgledalo kroz istoriju kroz donji video.
Zach LaVine, Minnesota Timberwolves
Aaron Gordon, Orlando Magic
Will Barton, Denver Nuggets
Andre Drummond, Detroit Pistons