Najava duela Thunder-Rockets: At Least a Few Games
"Russell Westbrook će biti odsutan nekoliko utakmica". Svaka precizna predikcija prve runde playoff-a izmedju Oklahome i Houstona je gotovo nemoguća dokle god nemamo nikakvu predstavu koliko utakmica je nekoliko utakmica. Dvije, tri, četiri?? Više??
Houston Rockets-i su ovu sezonu krenuli blockbuster trejdom kojim su dograbili upravo devetostrukog All Stara Westbrook-a, a u pravcu Oklahome proslijedili budućeg Hall of Famera Chris Paul-a i 2 pika prve runde drafta. Kada su u prvom dijelu sezone vidjeli brzu organizaciju napada koju Westbrook može implementirati generalni menadžer Daryl Morey se odlučuje za novu radikalnu promjenu rostera, te organizuje trejd 4 ekipe u kojem startni centar Clint Capela odlazi u Atlantu, dok Houston uzima krilo Roberta Covingtona. Od tog momenta svjedočimo vjerovatno najvećem small ball poduhvatu u istoriji NBA lige. Trener D'Antoni je modifikovao svoju "7 seconds or less" strategiju napada i pretvorio je u "7 seconds or James Harden beets the buzzer" verziju. Na koji način će se postaviti ekipa koja nema klasičnog centra, a pritom je za početak serije izgubila najboljeg skakača ekipe zaista ostaje enigma u ovom trenutku.
Oklahoma je svoju sezonu pokrenula u skroz drugom maniru. Sem Presti je još jednom pokazao da je sposoban za velike i riskantne trejdove, te se prošlog ljeta u samo nekoliko dana oprostio i od Paul George-a i od već pomenutog Westbrook-a. Ekipa je zauzvrat dobila Paul-a, Gallinari-a i 13. pika 2018. godine, reklo bi se supertalentovanog combo guard-a Shai Gilgeous-Alexander-a. Da budem iskren nakon trejda bila mi je zagonetka zbog cega NBA javnost OKC šalje direktno u fazu remontovanja, već su meni od starta izgledali kao prošlogodišnji Clippers-i, ekipa koja ima kombinaciju ostvarenih veterana i mladih talenata spremnih za dokazivanje. Thunder-i su zagrmjeli čak i jače i regularni dio sezone zavrsili na petom mjestu, uz iznimno kvalitetnu igru u četvrtoj četvrtini gdje su 16 puta ove sezone preokrenuli vodjstvo protivnika.
Po prvi put u nekoliko godina James Harden izgleda svježe i spremno za playoff, i prava je šteta da Houston nije kompletan. Rakete će ponovo pokušati da sa bezbroj šuteva za 3 poena eliminišu svoje protivnike. Ovaka pristup im je u prošlosti pobjeđivao neke serije, ali su takođe playoff završavali udarajući glavom o zid nakon što lopta u kontinuitetu više nije htjela kroz obruč. Houston svojom igrom ima potencijalnu mogućnost da isključi Novozelanđanina Stevena Adams-a iz ovog duela, jer na papiru ne izgleda da je moguće da Adams brani nekog od 15-20 centimetara nižih, šuterski opasnih i mnogo bržih igraca ekipe iz Teksasa. Ipak Oklahoma bi u tom slučaju mogla dozvoliti šutersku igru protivnika, postaviti zonsku odbranu, i na taj način sačuvati koherentnost svoje startne postave.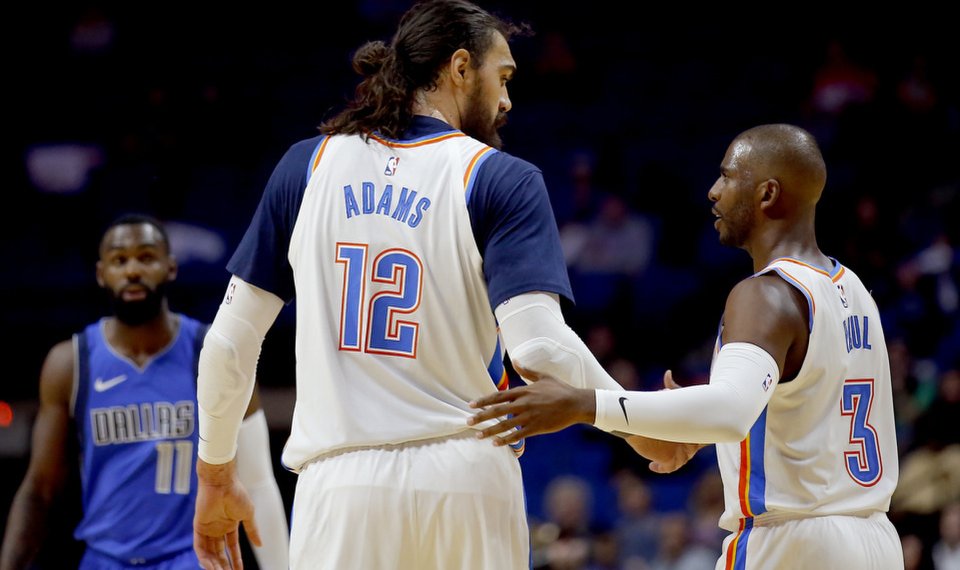 Kada su u pitanju igrači sa klupe, na prvi pogled se čini da Oklahoma ima više igrača u rotaciji koji su odigrali dobro određene periode ove sezone. Povratak Andre Robersona sigurno raduje stručni štab, i on će vjerovatno biti jedan od igrača koji će pokušati usporiti najpoznatiju bradu u košarci. Dennis Schroder finalista u izboru za najboljeg šestog igrača lige, unosi kvalitetan novi sloj Oklahominog napada. U posljednjih nekoliko decenija mnoge ekipe su sa više ili manje uspjeha pokušale da organizuju napad sa 3 plejmejker-a, i čini se da novi takav pokušaj Thunder-a je prilično urodio plodom. Paul, Schroder i SGA imaju odlične plus-minus rezultate u minutima koje provode zajedno na parketu. Ova trojka u prosjeku bilježi 55,6 ppg, 14,6 apg, 14,4 rpg i 2,4 spg dok iz igre pucaju preko 47%. Uz sve to kada se doda i 18,5 poena Gallinari-a OKC dobija izgled ekipe koja bi mogla da small ball igrom nadoknadi eventualne propuste vrlodobrog, ali ipak ne naročito pokretnog Adams-a. Chris Paul je ove sezone pokazao da još uvijek ima goriva u njegovom rezervoaru i vjerovatno će dograbiti jednu od All NBA pozicija, te će sigurno i dalje biti jedan od ključnih trejd targeta u narednih godinu dana. Ipak vjerujem da projekat Houston-a ove godine nije spreman za poraz u prvoj rundi, te da će naći načina da pobjede Oklahomu igrom na što više koševa. U svakom slučaju čeka nas zanimljiva serija sa potencijalno dosta emocija ukoliko se Westbrook spreman vrati ranije, a moja prognoza ovog puta je rezultat 4-2 u korist Rockets-a.