Kingsi imaju Top4 pick ili "Ah shit, here we go again"
Do NBA drafta ostalo je nešto malo manje od mjesec pa je pravo vrijeme da se osvrnemo na igrače koji će biti "lottery" pikovi. Kako ih najviše pratim zbog Sacramenta i Charlottea pisaću iz ugla ovih franšiza i o igračima koji mogu biti dostupni na pozicijama sa kojih oni biraju.
Kao što znate, Kingsi su našli novog šefa stručnog štaba, Mike Browna koji je do sada bio pomoćnik Stiv Keru u Warriorsima. Brown je do sada doveo tri pomoćnika (Jordi Fernandez, Jay Triano, Luke Loucks), dok se očekuje da barem troje pomoćnika iz prethodne sezone ostanu u ekipi Rico Hines, Doug Christie i Lindsay Harding.
Kingsi su na "kuglicama" skočili sa 7. pozicije na 4. i biraće na draftu nakon Orlanda, Oklahome i Hjustona. Koliko je lijepo napredovati tri mjesta, tako se povećava pritisak da se po ko zna koji put ne pogriješi na Draftu. "Sitnica" koja će dosta uticati na izbog igrača je "obaveza" ekipe da uđe u plej of naredne sezone, pa je velika vjerovatnoća da će Monte McNair tražiti "NBA ready" igrača. Takođe, Monte ima ugovor samo za iduću sezonu te će se za novi ugovor izboriti samo ukoliko ekipa dođe do tog zacrtanog cilja.
Sacramento, kao što rekoh, bira sa 4. pozicije a trenutno se čuju tri imena kao potencijalni novi igrači Kingsa – Jaden Ivey, Keegan Murray i Shaedon Sharpe. Prva tri pika bi trebala da budu rezervisana za Chet Holmgrena, Jabari Smitha i Paolo Banchera, dok se tiho pominje i AJ Griffin kao neko ko bi mogao da "skoči" do 4. mjesta. Murray i Griffin su igrači na krilnim pozicijama, dok su Sharpe i Ivey kombo bekovi. Kingsima su upravo na te dvije pozicije potrebna pojačanja naredne sezone. Predstavljanje krećemo sa Keegan Murrayom, bivšim studentom Iowa-e koji je prethodne sezone bio možda i najbolji ofanzivni koledž košarkaš. Imao je nestvarne brojke – 23.5 PTS, 3P% 39.8, 8.7 REB, 1.95 BLK i 1.3 STL.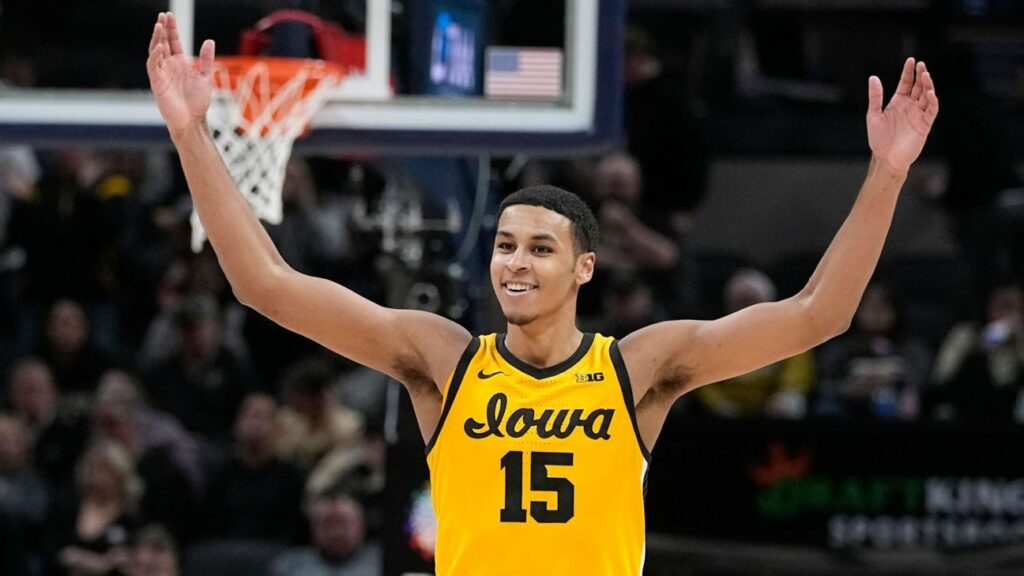 Iowa je učešće na "Martovskom ludilu" završila u prvoj rundi, Round of 64, porazom od Richmonda. Bilo je to iznenađenje ali u Iowi, mimo Murraya i McCafferyja nije bilo raspoloženih igrača. Krilni centar Iowe je meč završio sa 21 poenom, 9 skokova, 2 asistencije, i po jednom blokadom i ukradenom loptom.
Keegan je sjajan ofanzivac sa velikim brojem opcija da postigne koš. Veoma eksplozivan atleta, koji sjajno trči u tranziciji, uz solidan ball handling na otvorenom terenu. Kada u ekipi imate Foxa, Mitchella i Sabonisa, normalno je da bi Murray sjajno legao sa njegovom mogućnošću da igra u ranom napadu.
Sjajan je u pretvaranju defanzive u ofanzivu.
Takođe, osim "coast to coast" i tranzicija nakon krađe lopte, veoma je dobar kao "rim runner".
 Postizanje poena uz kontakt mu ne predstavlja veliki problem. Ako je vjerovati Synergyju, čak 37 "and one" situacija ove sezone.
U dosta napada koristi spin, sličan Siakamovom, u 95% situacija koristi spin oko svog lijevog ramena. Osim ovog video klipa i na drugima će se vidjeti spin, koristi ga često.
Spin Pascal Siacama.
Keegan je u post igri bio najbolji NCAA igrač ove sezone. U prosjeku je postizao 1.377 poena po posjedu na 106 posjeda. Daleko od toga da je najtalentovaniji post up igrač ali Murray koristi brzi prvi korak,  i jake ruke kako bi napravio prednost.
Takođe, sjajno se pozicionira prije dobijanja lopte u postu, koristi tijelo i ima dobar tajming.
U razgovoru sa Majk Šmicom sa ESPN-a napomenuo je da dosta trenira na fadeaway šutu koji izgleda vrlo "čisto", dok je kroz koledž karijeru dosta pogađao ove teže šuteve.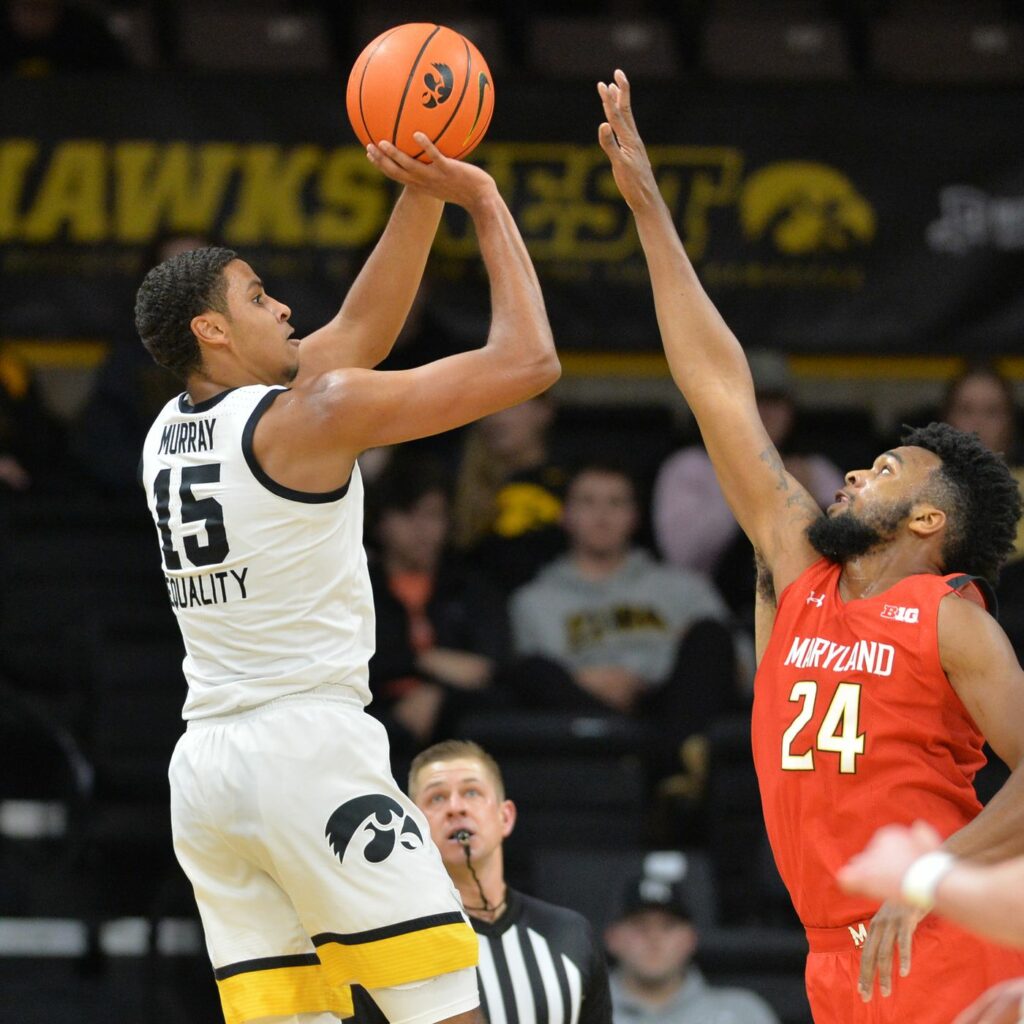 Igrač je kojem se ISO igra može podvesti i pod kvalitet i pod manu. Naime, voli da napadne iz izolacije i pokuša sebi da kreira poene, vrlo je strpljiv u izgrađivanju prednosti i može završiti sa obije ruke, ali ima dosta prostora za napredak kada je u pitanju ball handling.
Murray je prethodne sezone šutirao skoro 40% za tri poena i biće sigurno prijetnja iz PNP-a, streč četvorka za kojom Kingsi već duže vrijeme vape (zašto mi se ispred očiju stvara slika Marvin Bagleya III).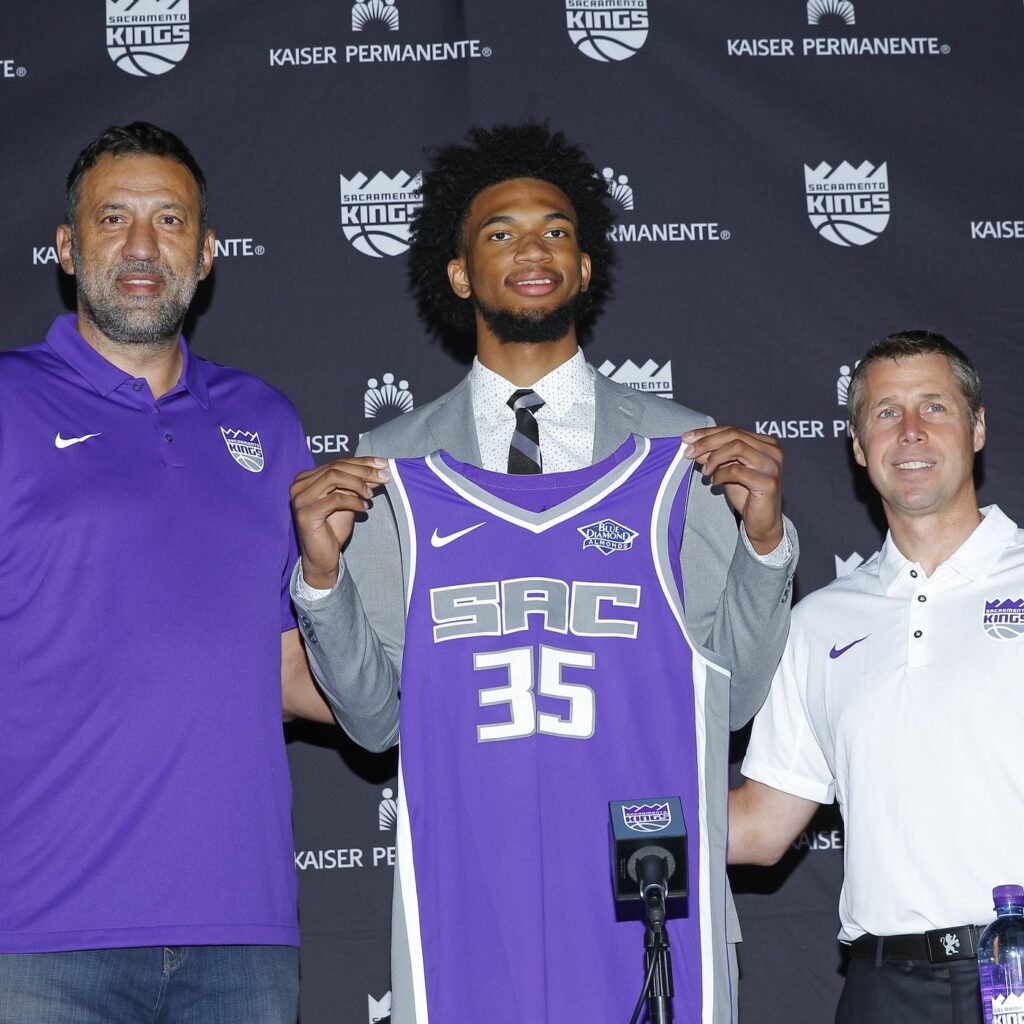 Takođe, nije mu strano da izlazi iz blokova i twirl akcija. Iowa je igrala dosta akcija za njega i nalazila mu slobodan prostor za šut.
Ima indikacija da će moći da igra kao PnR ball handler s obzirom da je nalazio različita rešenja na koledžu.
Ono oko čega ne treba brinuti sigurno je njegov "motor", želja za ofanzivnim skokom gdje često uhvati i svoj promašaj. Ove sezone je bilježio čak 2.9 ofanzivna skoka u prosjeku.
Koliko mu dobra donosi spin move, toliko je predvidiv pa protivnici često pomažu sa perimetra i kradu mu loptu, ili se njegov defanzivac postavi za "charge".
Keegan sjajno čita igru i pozicionira se kako bi stigao do ukradene lopte, veoma je aktivan sa rukama u defanzivi. Na video klipu su razne situacije, od pass deniala, recovery-ja kad iskoči previše, čitanja ball handlera, kao i sjajnog izvlačenja "stolice" dosta jačem centru gdje je koristio svoju brzinu i veliki raspon ruku.
U 39. sekundi je sjajan trap Iowe i njegovo fenomenalno pozicioniranje gdje je pokrivao dva igrača na strani bez lopte i isforsirao krađu.
Odbrana na perimetru mu je na zadovoljavajućem nivou. Teško ga je podići fejkom a vrlo je dobar u recovery-ju, ne odustaje kada napadač napravi prednost. Mislim da neće imati problema da brani više pozicija, s tim da će sigurno imati problem sa fizički jačim centrima.
I više nego dobar rim protector koji, kao što rekoh, ne odustaje ni kada ball handler napravi prednost.
Veoma aktivan kao bloker iz drugog plana i kao pomoć saigračima.
Keegan Murray se čini kao dobar fit za Kingse, radi se o krilnoj verziji Tyresea Haliburtona, koji u post igri podsjeća na Chris Bosha. Možda nije bolji sa loptom od Smitha ili Banchera ali je igrač koji može postići dosta poena bez puno vremena sa loptom u rukama. Keegan je all around igrač, koji možda nije najatraktivniji i najeksplozivniji ali se svakako radi o budućem sigurno starteru u NBA ekipi.