Lukin skener: Jacob Gilyard – košarkaški dinamit spakovan u 175cm
U NBA ligi sve je manje mjesta za igrače niže od 180-185cm, dok u Evropi dosta njih pravi razliku u svojim klubovima/takmičenjima. Ove sezone dominira TJ Shorts u Bonu, Tremont Waters odlično predvodi Boulogne-Levallois sa budućim prvim pikom na NBA draftu – Victor Wembanyama-om. O Shane Larkinu da ne pričamo, Holston iż Dižona i u 37. godini igra sjajno, Lauren Jackson iz SC Derby-ja vodi ekipu ka 6. poziciji u ABA ligi…
O Watersu smo pisali još 2020. godine i krenuo je da "krči" svoj evropski put a sada je na redu Jacob Gilyard sa Univerziteta Richmond. Jacob neće biti jedini igrač o kojem ćemo pisati s obzirom da i centar Grant Golden igra sjajno nakon koledža u G ligi.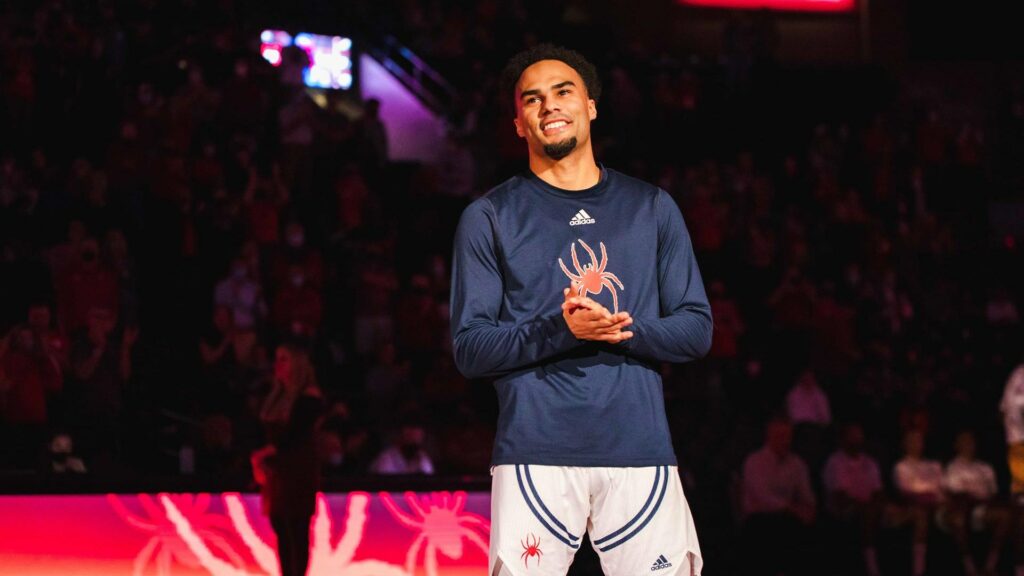 Većina nižih igrača ima problem sa defanzivom i obično baš oni budu meta, slaba tačka. To ovog puta nije slučaj, čak sam ga ni u jednom eliminacionom meču nisu napadali.
Kada je Gilyard u pitanju početak bilo kakvog izvještaja mora početi sa njegovih ukradenim loptama i deflekcijama. Jacob je rekorder po broju ukradenih lopti u istoriji NCAA – 466. Nije ni čudo što Jacob odlično "krade" lopte s obzirom da mu otac drži rekord Ottawa Univerziteta u Kanzasu.
Koledž karijeru je završio kao najbolji asistent, trojkaš, kradljivac lopti, ali i kao peti skorer Univerziteta Richmond.
Pa da krenemo sa klipovima – odlično pretvara defanzivu u ofanzivu.
Ima sjajan osjećaj za krađu lopte, bilo da se radi o aktivnim rukama ili sposobnošću da čita protivničke pasove.
Prilagodio se bez problema i na G League sa ukradenim.
Sjajan osjećaj za prekidanje pass-ova.
Takođe, u trenucima kada pomaže se odlično prikrada i uzima loptu.
Izdvojio sam i dvije situacije u kojima odlično čita protivničke pasove.
Kako je uvijek aktivan kao defanzivac ima veliki broj deflection-a, jednog od omiljenih statističkih parametara Rika Pitina.
Zbog visine sigurno da nema prednost u defanzivi kod remećenja protivničkog šuta ali se odlično kreće kroz blokove i ne gubi poziciju. Dobar je defanzivac na lopti.
Kao što rekoh dobro se kreće i u protivničkim off screen akcijama.
Dok je ovdje u startu kasnio ali na kraju zasmetao pri šutu.
U ovoj situaciji je odlično preuzeo nakon loše kretnje svog saigrača.
Ofanzivno, Gilyard posjeduje veliki košarkaški IQ i pravi je floor general na terenu. Prije nego počnemo sa PNR napadom, osvrnuo bih se na njegovu saradnju sa centrom sa Richmond-a – Grant Golden-om. Sjajna utrčavanja iza leđa protivnika i odlični pasovi visokog igrača.
U ovim situacijama kada nije mogao da završi na obruču uigrana akcija sa igračem u korneru.
Igrali su i inverted PnR gdje je Golden ball handler a Jacob screener.
Jacob je u poslednjoj sezoni na Richmondu imao 5.35 asistencija, dok u G league na 29 mečeva ima 8.17 asistencija. Iz PNR-a prevashodno traži rollera.
Naravno i PnP kada defanzivni centar ostane u dropu.
Kada defanzivni centar izađe previše radio je "split" i provlačio se između PNR defanzivaca.
U većini situacija će prvo tražiti pass rešenje.
I u tranziciji se odlično snalazi kada su pasovi u pitanju i vidi i cut-ere i leak-ere.
Ima veoma brz izbačaj i prijetnja je kao off ball šuter. Ima 42% šuta iz spot up pozicija u kojima se digne odmah na šut.
Odlično se kreće bez lopte i relocira za otvoren šut.
Nije previše uzimao floatera/runnera ali je bio veoma opasan iz istih.
Posjeduje vrlo brz prvi korak i generalno je jako brz i lako pravi prednost što se može vidjeti na idućem klipu, bilo da se radi o postavljenom napadu ili tranziciji.
Naravno, visina i tijelo mu predstavljaju problem pri kontaktu ispod koša.
Ipak, i na koledžu i u G league ima dobre procente šuta na obruču.
Kada je šut iz driblinga u pitanju poznat je po svom step back-u, pretežno ulijevo.
Posjeduje i NBA range za 3PT.
Određeni problemi sa "contested" šutevima postoji zbog visine.
Ukoliko mu se pruži prilika da uzme šut za 3 u ranom napadu sigurno će se dići na šut.
Ono što mu je izuzetno jako oružije su give and go situacije što ga čine elitnim DHO igračem sa odličnim mid rangeom.